Mitchell
Shameik Moore, Jake Johnson, Hailee Steinfeld, Mahershala Ali, Brian Tyree Henry, Lily Tomlin, Luna Lauren Velez, Zoe Kravitz, John Mulaney, Kimiko Glenn, Nicolas Cage, Kathryn Hahn, and Liev Schreiber. Written by Phil Lord and Rodney Rothman. Directed by Bob Perischetti, Peter Ramsey, and Rodney Rothman.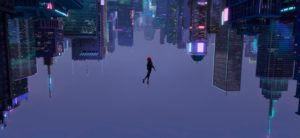 There's a lot to spoil about Spider-Man: Into the Spider-Verse, so what I'll say here will not tell you much about it. Still, I think it's safe to offer a few thoughts in the interest of convincing you it's worth checking out.
I kept saying holy moly. Leave your pessimism at the box office and meet Spidey where he is: at the crossroads of multiple universes, animated unlike any concept you have about what a comic book superhero movie looks like.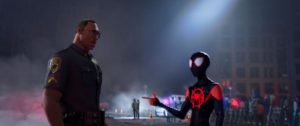 The story may sound like typical teen-angst fodder but it stands out because of what's going on as the film tells it: multiculturalism, hyper-surreal visuals, and plenty of humor. I can't believe the filmmakers get away with some of their bizarre decisions, but they get away with them all because once the movie establishes itself as a story where anything can happen, anything happens.
Audaciously imaginative and one of the best movies I've seen this year. Kid-friendly. Just go.
8/10
81/100