Mitchell
Alden Ehrenreich, Woody Harrelson, Emilia Clarke, Donald Glover, Thandie Newton, Phoebe Waller-Bridge, Joonas Suotamo, Paul Bettany.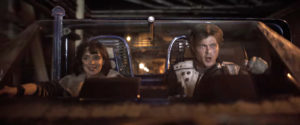 It's another standalone Star Wars story, and after Rogue One I have to say I was amped to see it. Alden Ehrenreich is a terrific actor, and his "Would that it were so simple" dialogue with Ralph Fiennes in Hail, Caesar! is one of the most laugh-aloud funny scenes I've seen in years, so nobody needed to persuade me to buy him as Solo. I was already bought.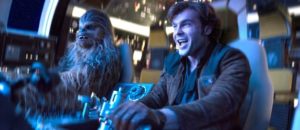 Solo: A Star Wars Story traces Han Solo's early life, beginning with an escape from some kind of child labor camp (or something!) and ending somewhere vaguely familiar but nonspecific in our knowledge of the Star Wars universe. As it unfolds, we see the development of Han's story in the years before we meet him in Episode IV.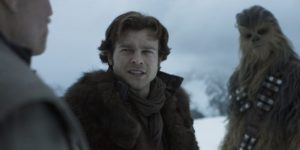 It's a standalone movie, but of course it's a standalone movie about a beloved character. The writers, actors, and director have to walk a delicate line between just telling a good story and being true to both canon and spirit, and they walk it well. Although some of my female friends disagree, Ehrenreich has the swagger and cunning of the Han Solo we know. If he's not as ruggedly handsome or seductive, he shows signs of becoming that guy. We should expect him to be a bit raw and even innocent, two words we'd never use in describing the character as played by Harrison Ford. Young Han Solo has seen things, but not that many things.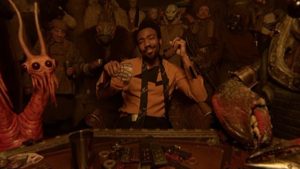 The other major, less doubtful question is whether Donald Glover could pull off Lando Calrissian. I feel very confident in assessing his performance as better than anyone could have hoped. He's not only perfect, he's somehow better than that, so charismatic, morally ambiguous, and charming that he almost steals the movie from Ehrenreich.
Add Woody Harrelson, a new droid named L3-37, a love interest named Qi'ra, and of course Chewbacca, and you have a solid cast for what should be the first movie in a trilogy. Honestly, it's a stronger set of actors than we thought we had after episodes IV and I, and if the story is not quite as good as some of the best in the series, it can be excused for spending more time on character development than plot.
This is not to suggest the plot is terrible. It's decent space western stuff with unanswered questions enough to keep the audience guessing as it awaits word on a sequel. I found enough to chew on that I waited only a week before getting back to the theater to see it again. I'm fully down with this Solo, this Calrissian, and this nested series. I've got a good feeling about this.
8/10
81/100